Use the Click Report Pop-in Feature
Click Reports pop-in feature deters fraudulent and repetitive clickers by catching them in action. The pop-in feature can serve as a warning to pay-per-click attackers, yet a polite reminder to innocent searchers to bookmark your page.

Using the Pop-ins feature is easy; simply turn visitor warnings on in your campaign settings, and set the parameters for each of your customized messages. You may choose to display a mild warning to visitors after 2 clicks in a minute, and a more severe message to visitors who have clicked 4 or more times on your ad.

Learn more about the pop-in feature here.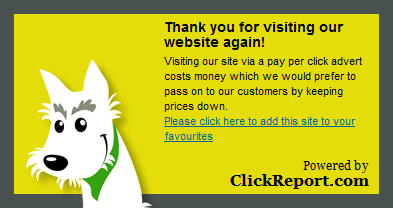 Add The Click Report Badge
Proudly displaying a Click Report badge can warn competitive clickers that you have a defense system in place, and are actively monitoring their behavior. This has been proven to reduce the overall number of repeat clickers.

To add the badge to your page click here, or click the image below.